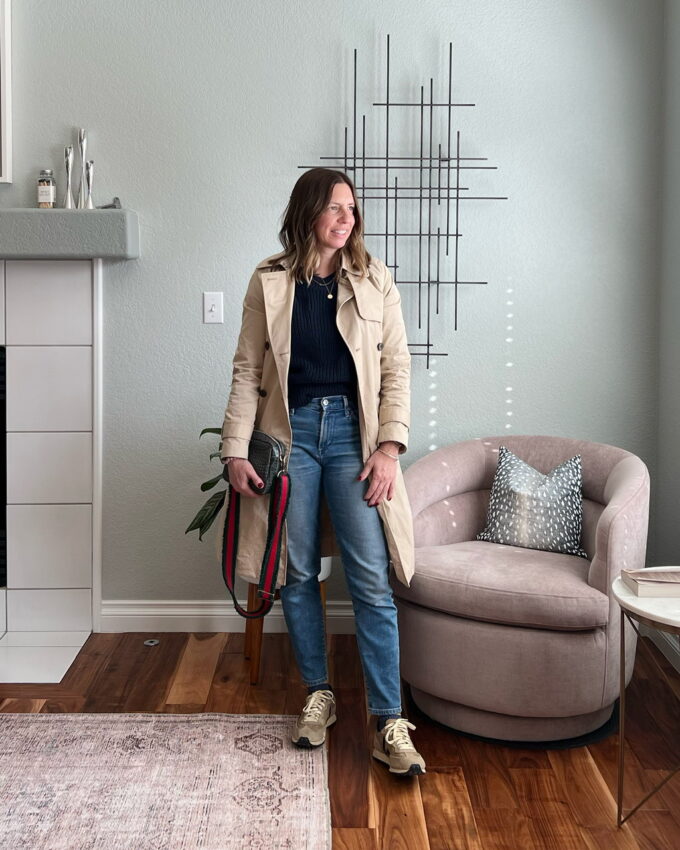 There is a definite uptick in purchases this month with Lawson's birthday and Easter in early April. I am proud that I remained diligent with items for myself and really love the 3 things I got. 
What I Bought in March
Chambray shorts: My first purchase of the month was another pair of boys shorts from J. Crew. I ordered Lawson a pair of the chambray and yellow colors. He's now set for shorts this summer! These always go on sale for 40-50% off if you're patient. 
Baselayer: On our last ski day, Lawson put on his base layer shirt and immediately exploded because it was way too short in the arms. I found this one on sale at REI for 50% off and bought it as a replacement.
Shit That I Knit beanie: The sky blue colorway was on sale and I couldn't resist another hat in my collection. Lawson will sometimes use my other hats so it was basically a hat for us to share. Ha!
Cotton sweater: I have worn this sweater twice a week since I got it. It's a perfect spring sweater – 100% organic cotton so it's still warm, but feels more spring-like than my heavier winter sweaters. I've been wearing it with medium wash denim and plan to pair it with white jeans or linen pants soon. I bought the navy…it comes in two other colors as well. I sized up one.
Boden kids polo shirt: Purple is Lawson's favorite color. This shirt will round out his spring and summer collection. He's good on both short sleeve shirts and shorts now!
Alice Walk gauze top: This top had been on my wish list for 6+ months. It's very, very soft and I know I'll reach for it many times this spring and summer. 
Away packing cubes: After referring too many disagreements about who gets to use which color packing cubes, I gave in and ordered another set. Now Lawson and Sybil will each have their own and Jim and I will share a set. Perhaps this is reason #1298742 why my children often act entitled and ungrateful.
MERIT Flush Balm Cream: I shared on Instagram that I bought this blush cream – there's so much love for MERIT. Friends messaged me raving about the bronzer and lip oil too. I'm impressed with the blush cream. It's hydrating and the color seems to last throughout the day. 
Tower 28 Mascara: On the same trip to Sephora, I picked up this mascara to try after listening to the founder on a recent podcast episode. It's great so far!
I shared all of the items I bought for the kiddos Easter baskets here. I also placed a bigger Amazon order during the month with some books for the kids, these towels I use for cleaning, a new fabric shaver to clean up my sweaters, meat chopper, and a clip on ring light.