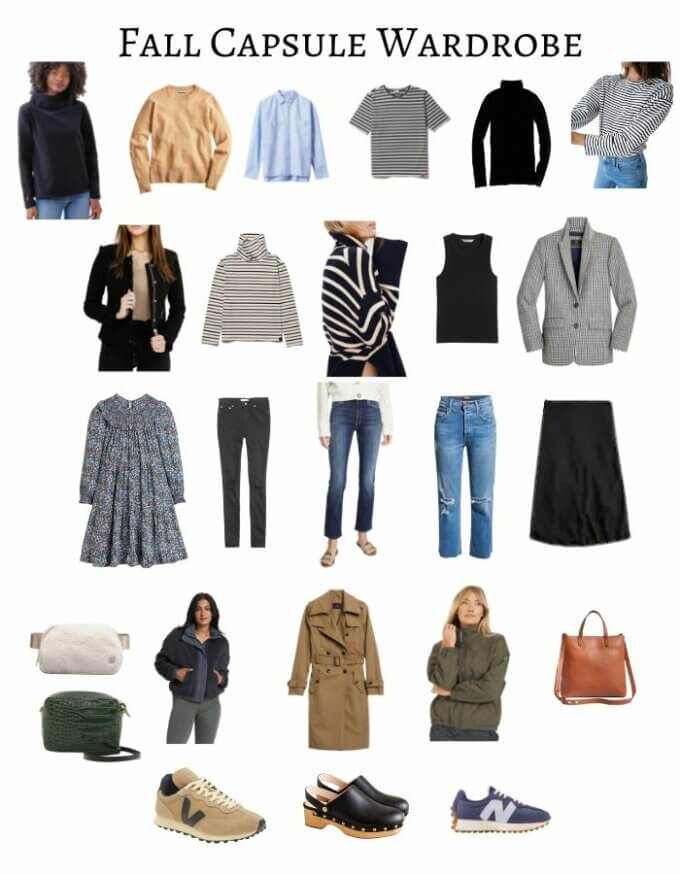 I've been feeling both over and underwhelmed with styles this fall. Overwhelmed in all the new trends (barrel jeans! cargo pants! clogs!) and underwhelmed with many of the options available. What I've figured out is I gravitate to classic styles. Striped shirts, quality sweaters, a trench coat. These are the images that catch my eye on Instagram and I'm pinning on Pinterest. That doesn't mean I don't indulge a trend here and there – I did buy clogs last fall that I was excited to pull out again this year!
A Classic Fall Capsule Wardrobe
A capsule wardrobe can simplify getting dressed every morning and who doesn't want more time in the morning??! While I don't strictly follow a capsule wardrobe, I do find myself wearing tried and true items over and over.
Tops and Sweaters
Fall temperatures can really fluctuate from beautiful sunny skies to clouds and rain to sunshine and snow. So I need a lot of variety in tops and sweaters in the fall. Layers are key to staying warm and comfortable!
Fleece turtleneck: Comfortable and stylish, a fleece turtleneck is perfect for fall (winter too!) I also own two of the Park Slope styles that are in heavy rotation when the temperatures cool. (Use promo STATESOFSTYLE at checkout to get 25% off through 11/15 – you may need to sign up for emails)
Crewneck sweater: Is there a piece more classic than a crewneck sweater? I think not. Camel, black, and navy are all great colors to have in your closet.
Button down shirt: A button-down (up?) shirt can be worn so many ways. Alone, layered under, layered over. The possibilities are endless.
Short and long sleeve striped shirts: In the fall and winter, I gravitate towards black and white/cream striped shirts. Either can be worn alone or blazer/jacket.
Solid and striped turtlenecks: I own several of the J. Crew tissue turtleneck shirts in solid colors like black, navy and ivory. This year I added a striped style from Kule. The colors are very versatile. Again, you can wear these alone or under another layer.
Tweed jacket: There are a ton of tweed jacket options this fall from this popular J. Crew style to my go to jacket brand, One Third's jacket 01 (read more about it here, size up if you're between sizes). It reminds me of jackets my grandmother wore.
Oversized striped sweater: When I think of the last time I wore an oversized sweater, my mind immediately goes to a grey wool from Abercrombie from my college days. Gosh, that thing was drab! With the side slits and striped, this Gap option is more modern and fun.
Ribbed tank: TBD on how much use I'll get out of a tank this fall. I have already worn it a couple of times alone and under jacket 01.
Herringbone blazer: Another blazer option is a herringbone or houndstooth style that blends two or more colors.
Blouse (not pictured): A newer addition to the fall wardrobe is a gauze blouse. It comes in four colors and is a great transition piece. Lightweight enough for warmer days while also feeling a little more like fall, especially in the black.
Camel jacket (not shown): This jacket was just released this week and it's already on my wish list. The camel color is perfect for fall. I'd pair it with black, ivory or navy.
Pants and Dresses
Floral dress: Such a fun dress in fall shades to wear with sneakers or clogs.
Black denim: As soon as the temperatures start to fall, I reach for black denim. While skinny jeans have been a staple the past decade, I am trying a straighter leg style for fall.
Dark and medium wash denim: I wear denim almost daily so having a range of shades is a given. While I'm partial to Mother Denim, I also own Agolde, Madewell, and Citizens of Humanity. Find the brand that fits you best! (There are a ton of jeans for sale on Poshmark – if you know the brand/style/size, you can get them at a steep discount.)
Slip skirt: Perhaps the most excited I've been about a clothing item in ages. A slip skirt can be worn so many ways. I prefer a streamlined top and jacket or a chunky sweater. As for shoes, you can wear heels to dress it up or clogs and sneakers for more casual days.
Jackets and Bags
Fleece fanny: For school drop-off and pick-up, walks around the neighborhood, and events when a casual bag is needed.
Midi crossbody: Tied for my most worn bag, I am a big fan of this smaller crossbody. I switch out the strap often – a checkered crossbody, link shoulder, or adjustable stripes.
Crossbody tote: A 4-year favorite of mine is the Madewell zip top transport tote. It's a great size – it holds a surprising amount – and the chestnut color can be worn with everything.
Sherpa jacket: I have a version from last year that I wore all the time. On walks around the neighborhood and inside when the house was chilly.
Trench coat: For those cool fall mornings, throw on a trench coat to keep warm. A trench coat immediately makes any outfit a little more fabulous.
Bomber jacket: A jacket in an olive shade is more versatile than you might think. If a utility jacket is more your style, I like this Madewell option.
Shoes and Accessories
Brown sneakers: Comfortable and chic. Do I need to say more?!
Clogs: Clogs are definitely not for everyone. But, they can make an outfit more polished.
Navy sneakers: The most comfortable sneakers straight out of the box.
Loafers (not shown above): Every fall, I reach for an old pair of leopard mules. For more of a splurge, check out the Margaux penny loafer.
Cashmere wrap: A navy or black (or both!) cashmere scarf is a must have.