If you follow my daily outfits on Instagram, you'll notice I am usually carrying a Clare V bag of some sort. I have been a fan of the brand for over 15 years and own 8 bags at last count. Keep in mind I've collected these over a long time period. I've purchased many of them on sale. If you join the Clare V newsletter, at least twice a year their mailers have included a 20% off promo code.
A Review of My Clare V Bags
In the past 15 years, I've accumulated a collection of eight Clare V bags from clutches to totes. If I had to choose one bag to recommend it would be the midi sac or grande fanny (followed closely by the leopard foldover clutch – it's so hard to choose!)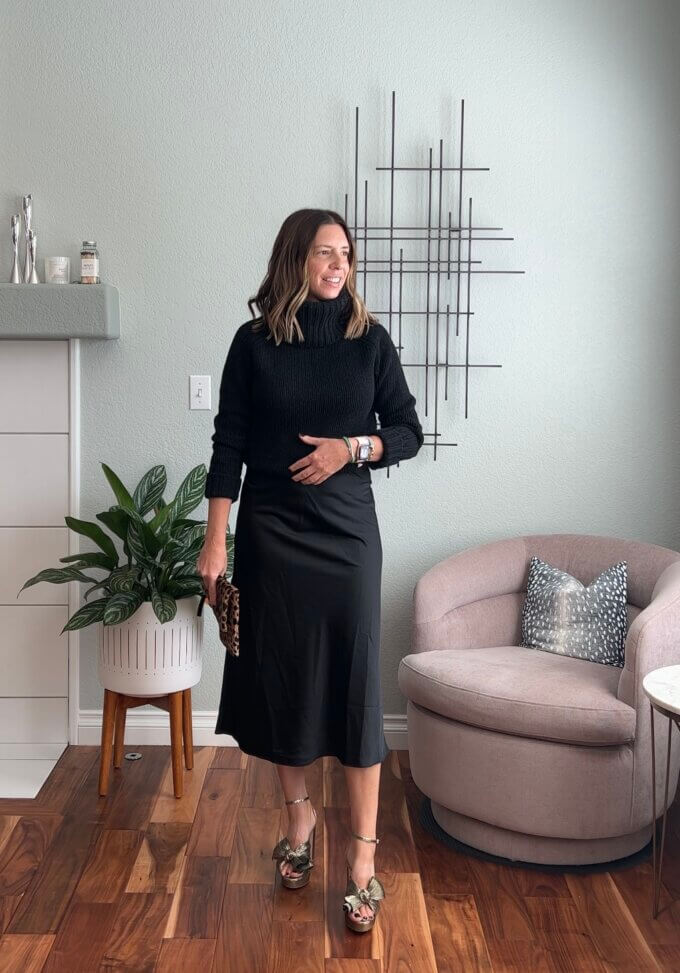 Foldover clutch: My very first purchase is a classic. The Clare V foldover clutch in leopard. Fifteen years later and I still pull it out a few times a year. Leopard is a timeless neutral that can be worn with so many different outfits. I also have a pebbled grey foldover clutch that is no longer available. Clare V has updated the foldover clutch to include tabs, which is so fun as it allows you to add a strap to it.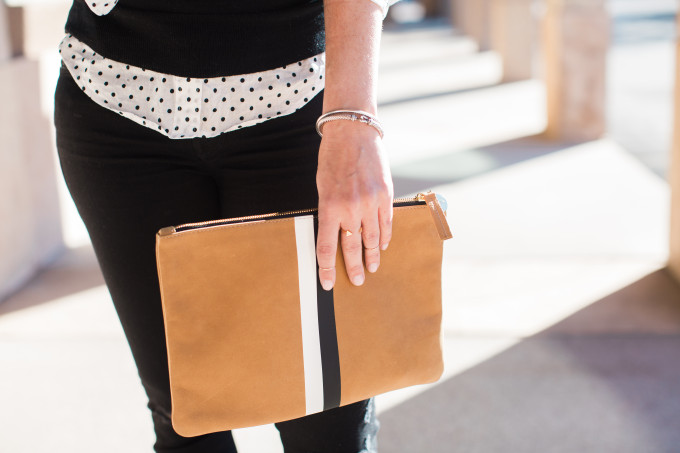 Flat clutch: My 3rd purchase was the camel with stripes flat clutch. I also own a blue suede flat clutch that I purchased via Poshmark. I generally use the flat clutch as a pouch within other tote bags when I travel.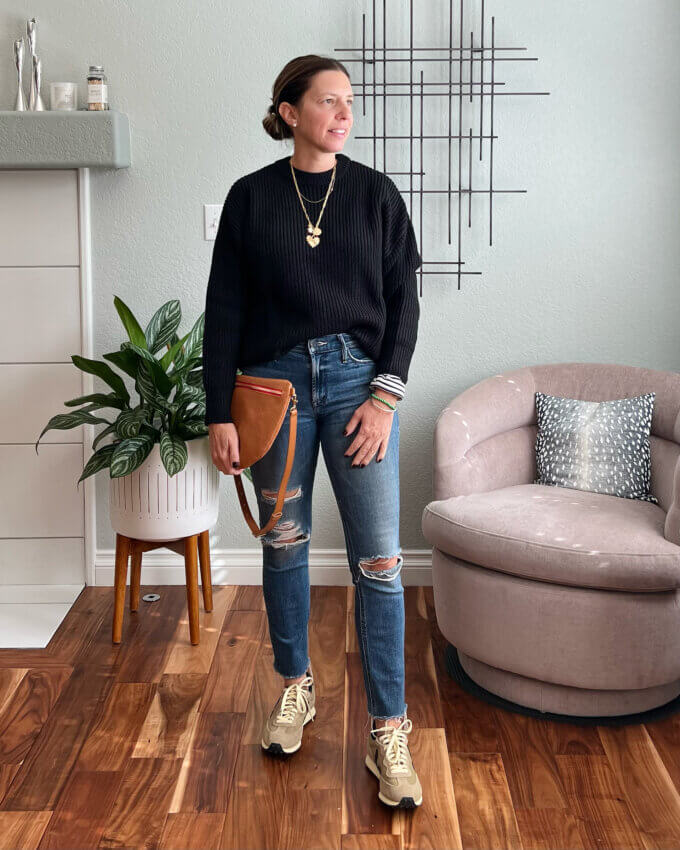 Grande fanny: The most recent addition to my Clare V bag collection is the Grande Fanny in the cuoio perf colorway. It has quickly become the bag I'm reaching for most often. It holds a surprising amount. I easily fit my phone, card wallet, glasses, keys, lip gloss and lipstick. I also like that it lays flat so it would be a great travel option – convenient to throw in a suitcase to have another option when arriving at your destination.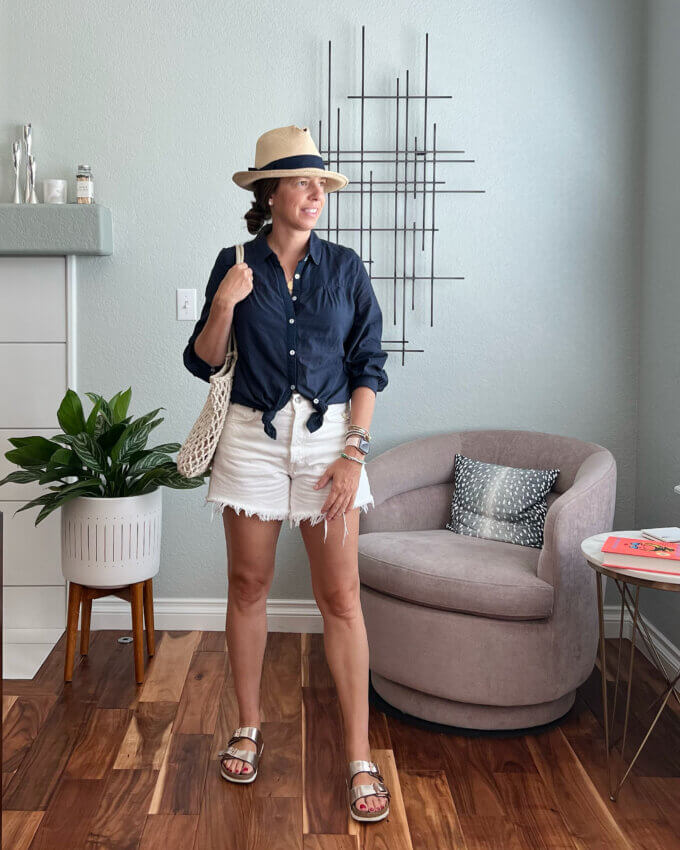 Sandy: The Sandy tote is the most impulsive Clare V purchase I've made. I saw it on sale in a Denver boutique and snatched it up. It's another great option for travel as it folds easily and lays flat. I have a small pouch that I put keys and lip stuff in. Other than a pen, I've never had anything fall out of the holes!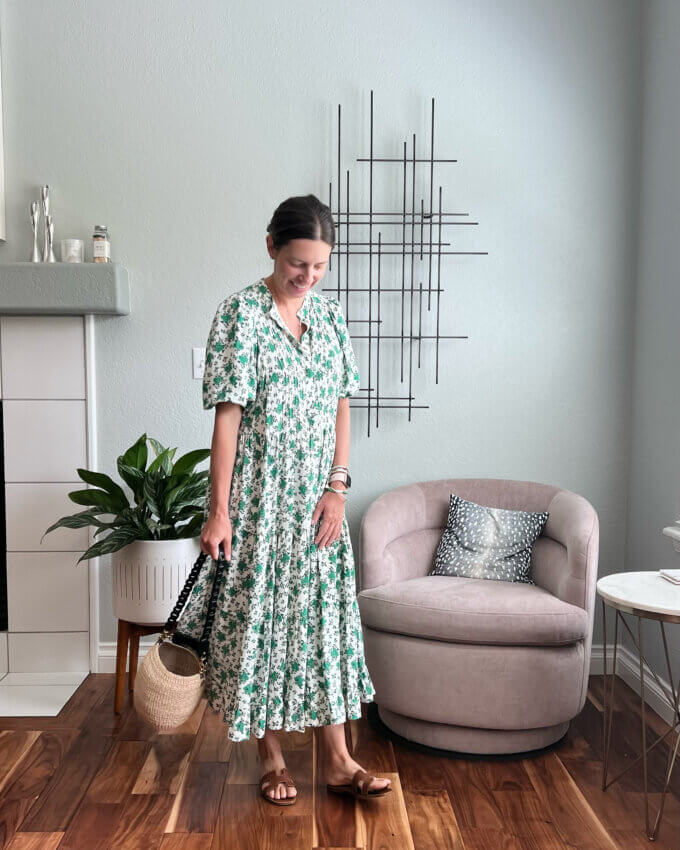 Pot de Miel: This spring I added the Pot de Miel to my collection. It's unique in shape and texture, which I really like. It adds dimension to a more basic outfit. It comes with a cute hand strap. I added the link shoulder strap, which made it feel like a different bag in the best possible way! TBH, this is my least functional bag for daily wear. I find the bag opening to be more restrictive. I love the look of it though so I continue to use it!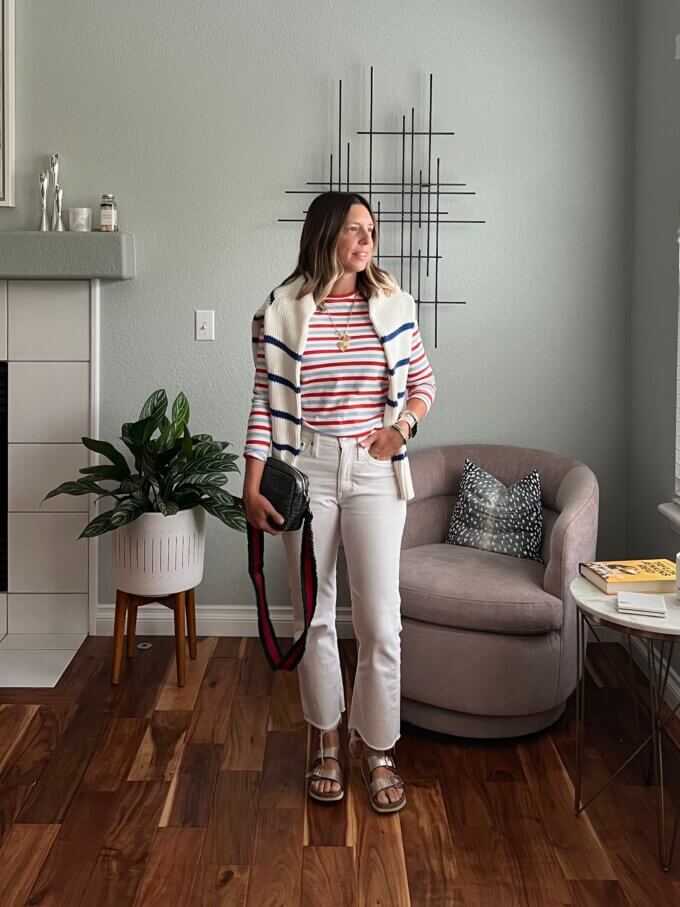 Midi sac: My most carried Clare V bag to date is the midi sac in the loden green croc colorway. It's a great size. Small enough to carry daily, but large enough to fit all your essentials. I most often pair it with an older Parker Thatch striped crossbody strap and also carry it with the checkered crossbody strap or link shoulder strap.
Most Recent Additions / Wish List
While I have quite a collection of Clare V items already, there's always something on my wish list! I recently ordered the baseball hat and classic tee. (I also own the everybody tee style – I think it runs small/tighter fitting than I prefer.) Reviews to come once I've received them! Another item I'd like to try is a sweatshirt. Use promo code summer20 for 20% off Clare V items through 6/1/2023.