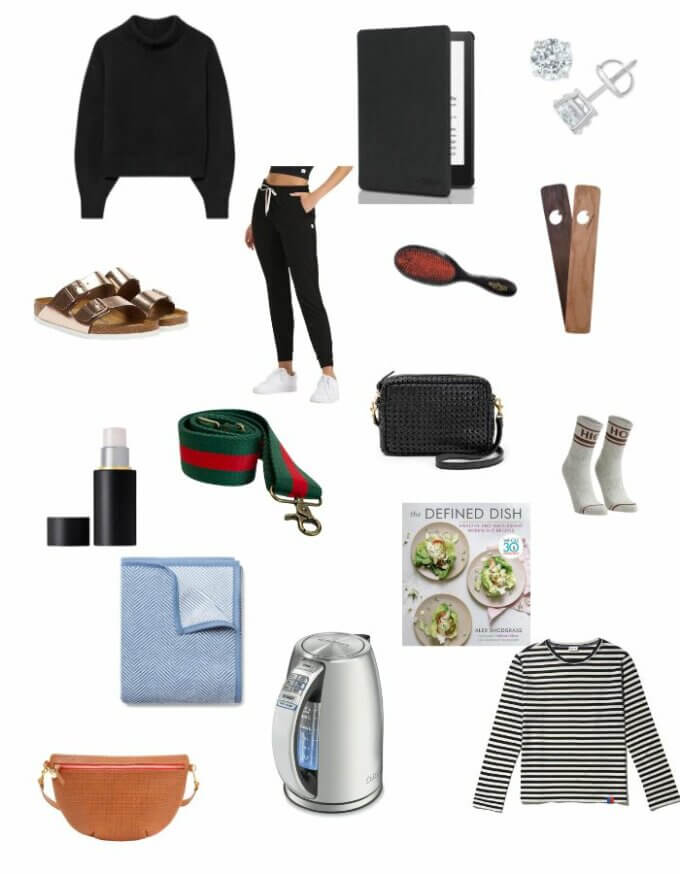 All Time Favorite Purchases
When reflecting on my personal best purchases of 2022, I realized how many of the items I absolutely LOVE I've owned for a few years. I thought it would be fun, and hopefully helpful, to compile a list of my all time favorites. These are the items I wear and use over and over. I have either owned them for years or see myself doing so. The things I would repurchase immediately if I were to lose them. 
Clothing/Accessories
Naadam cashmere sweater: Kicking it off with an item I first bought in late 2021. This is the softest, coziest sweater I own. I didn't know there could be so much variation in cashmere – it is the most luxe. I love it so much I added black to my wardrobe for my first purchase this year. (I also own oatmeal and bought both when on sale for 40% off.)
Parker Thatch adjustable strap (similar): I bought this strap on sale a few years ago. I've used it with almost every bag I currently use – the Madewell Transport tote, Clare V midi sac, Clare V grande fanny. It has been mistaken for Gucci more times than I can count. (I usually admit it's not and am trying to be better about just smiling and saying thank you!) I can't vouch for it, but this adjustable striped strap is less than $8 and has great reviews.
Clare V Midi Sac and Grande Fanny: I simply couldn't choose between these two Clare V bags. I've owned the Midi Sac for longer and have used it weekly. The Grande Fanny is my current go to. Both are just so easy to carry on a daily basis. They fit all my essentials without being bulky or allowing me to stuff everything in. 
Striped shirts: I own a few different brands and it's hard to pick a favorite. I tend to reach for the Kule Modern Long and Saint James Minquiers Moderne Breton the most often. I wear my true size in both – the Kule is more fitted and the Saint James is a looser fit. I prefer a white base rather than ecru or cream (so white/navy, white/black) – probably just personal preference, but it's taken me a few mistakes to figure out!
Mother baby steps socks: I embraced the sock trend last year after too many winters with cold ankles. My go to favorites are Bombas and Mother baby steps. The baby steps win out with their cheeky phrases (I own both the original and ankle versions). There are several styles half off – the shipping cost is outrageous though so partner with a friend and buy 5 to get free shipping!
Vuori joggers: I bought my first pair over 2 years ago, immediately ordered another pair and have gifted them multiple times since. If that isn't a ringing endorsement, I don't know what is. They are versatile – cute enough to wear out of the house and comfortable enough for a lighter workout or as pajama pants. I now own 3 pairs and wear them weekly in the fall and winter. Mine have held up great for 2.5 years. 
Diamond Studs: A gift you'll wear every day. Classic, minimalist and chic. At my first job out of college, a manager wore diamond studs and I swore some day I'd have a pair of my own. I've had mine for 16 years and my cost per wear is now $1.
Birkenstock Arizona sandals: These sandals have been my go to for over 6 years. Putting them on each spring is a tradition I look forward to – there's nothing like slipping into them after a winter away! While I have a few different pairs of Birkenstock sandals and clogs, I've realized through trial and error that I am particular about the style. I specifically wear the Arizona style in the copper colorway with a soft footbed and a narrow width. The copper colorway looks the best with my skin tone and are slightly dressier than some of the other colors.  
Hair and Skincare
GHD curling iron: I am very low maintenance when it comes to hair – I don't use any styling products and stick to the Kristen Ess shampoo and conditioner from Target. But, I'm convinced this curling iron makes my hair look shinier and smoother. I have the 1.5" barrel.
Mason Pearson brush: I debated this brush for years – could it possibly be worth the price?! In fall 2020, I bought it somewhat on an impulse when I saw a 20% promo that worked (most promos exclude Mason Pearson). I own the Junior Mixture Nylon & Boar Bristle (model BN2). When used in combination with the GHD curling iron, my hair looks and feels so soft. I will be able to pass it down to Sybil one day! (Also available at Amazon, Neiman Marcus, occasionally Groupon, and apparently at Costco sometimes – I saw a price of $100)
Westman Atelier Lit Up: A highlight stick that is so good I've repurchased it twice. I have owned both the Lit and Nectar shades. With a few swipes, I feel brighter and dewier. 
Haldi Skin: Technically this is a service rather than a particular product or item. The premise is simple – fill out a skincare questionnaire (skin type, budget, routine type) and get personalized product recommendations. I've been using Haldi Skin for over 18 months and have nothing other than a rave review. All the products I've been recommended have been great. You can read my full review of Haldi Skin here.
Home
Kindle paperweight: After years of stating I was strictly a physical book person, I caved and tried a kindle. It is wonderful. I find I read more with it – it's easier to transport and fit in 5-10 minutes of reading between pickups/appointments/etc. I often check out e-books from our local library. Pay the extra $20 to get it without lock screen ads. Truly, I cannot say enough good things about it!
Wooden bookmark: Available in a variety of shapes and symbols, these bookmarks make me happy. It's much nicer than using a random piece of paper to hold your page. I usually keep a few on hand for gifts throughout the year. While I love my Kindle, I still read paper copies as well!
Cuisinart water kettle: I was hesitant to add another appliance to our countertops, but this one is worth it. I've used it every day for my morning tea, hot chocolate for the kids, and when I need hot water in a recipe. I feel lost when we travel and I don't have it.
ChappyWrap blanket: A ChappyWrap blanket was on my wish list for over a year when I finally received it as a birthday gift in 2020. I've used it every night since and we now have 4 in our home. It is warm and soft and lovely. I especially appreciate that it launders well and folds up easily (and looks good next to the couch!). We rarely travel without taking at least one with us. I've gifted the original size and also the midi size to all my favorite kiddos.
The Defined Dish cookbook: I've used this cookbook weekly over the past 3 years. While many of the recipes are Whole30 compatible, they are so good you won't even notice the recipes are missing sugar or dairy. Another item I've gifted multiple times.