Best Purchases of 2022
A random mix of clothing and home purchases. I admit I had a hard time cultivating this list. Very few items stuck out to me as being so exciting that I can't shut up about them. When I was brainstorming, I thought of all the items from past years that I still have and love. Cue an upcoming best purchases *of all time* list. 
Michael Stars shirt: I randomly bought this shirt during a mall trip in Arizona. I proceeded to wear it all summer long. It's light enough to feel comfortable even on the hottest of days. I wore it with white denim, light wash denim and as a swim coverup. 
Crown Affair hair towel: Okay, I debated this $45 purchase for months, maybe years, which is as ridiculous as it sounds. It is worth every penny. My hair dries faster. Water no longer drips down my back or shirt before I dry it. I love it so much I gave it out as gifts this holiday season and bought an extra for travel. (As an aside, does anyone else hem and haw over smaller purchases like this??!)
Sonos speaker: We actually gifted this to Jim for Father's Day, but it's ended up being one of my favorite items. We have an Apple Music subscription and I frequently connect it to the Sonos speaker to move around the house with us (or outdoors in the summer). The sound quality is good and it's very easy to use. My only complaint is the speaker doesn't hold a charge for as long as I'd like.
Rug: Our dining area was in need of a new rug. I find rugs to be so expensive. The kids are still relatively young and aren't always the neatest eaters so I didn't want to spend a lot of $$ on a rug that might get ruined. The Amber Lewis x Loloi rugs get great reviews. I found it on sale at Wayfair; they are also sold on Amazon.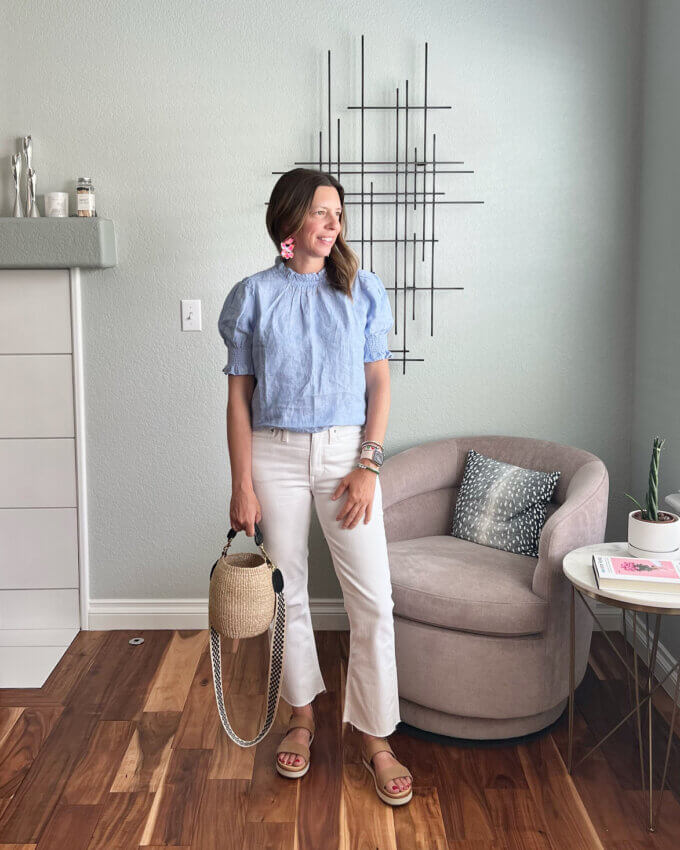 Boden smocked midi dress: I bought this white midi dress mid-summer and proceeded to wear it once a week. It is the ultimate in comfort. I hope they bring it back again this summer! (If you're a size 10, it's on sale!)
Veja Rio Branco: Comfortable and versatile, these sneakers go with so many of my fall and winter wardrobes.
Clare V Grande Fanny: A very popular Clare V item, the grande fanny is perfect for a hands free crossbody. It fits all my daily essentials (coin clutch, sunglasses, card case, lip gloss). I wear with the adjustable strap it comes with or my go to striped strap.
J. Crew puff sleeve shirt (similar): A friend bought this shirt in the prettiest shade of French blue. I loved it so much I bought it for full price, which never happens! 
Patio chair: We wanted a chair for our front "porch" to use while watching the kids play. Jim actually picked this one out and was perfect for the space. It got a lot of use (and compliments)!
Cleo Neon earrings: My only "fun" pair of earrings. They instantly change the vibe of an outfit.
Honorable Mention
There are a few items I bought or was gifted later in the year that have the potential to be included on a best of list. I haven't owned or used them enough to be sure, but I thought it might be helpful to list them out. 
Kitchen dish cloths/towels: I use these to wipe down counters after meals. Can a towel make you happier to do household chores? Because these do. $13 for a pack of 12.
Beautycounter lip gloss: Your lip color, but slightly better. Glossy without being sticky. This is my go to lip gloss right now.
Theragun Mini: A holiday gift from Jim, this mini massager really works. It was wildly popular as a 2020 holiday gift and I can see why. 
Caraway Sauce Pan: I've been using the Caraway Fry Pan for a year now and love it. When we needed a new sauce pan, I asked for this one for Christmas. I really, really like Caraway products and highly recommend checking them out if you need new cookware (this bundle is a good deal).