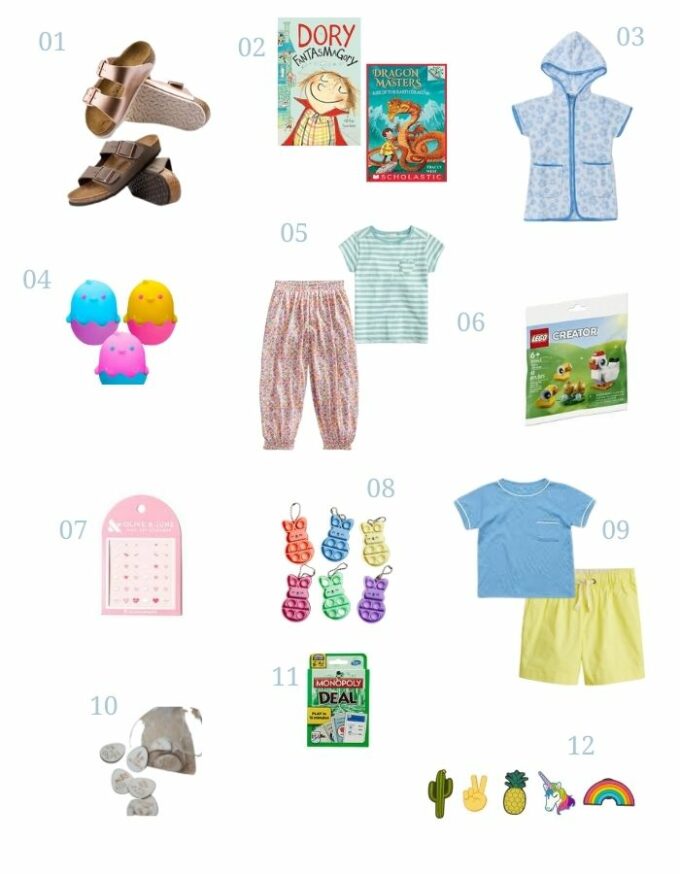 This year we're spending Easter with family. The kids and their cousins are getting one big basket filled with an assortment of sweet treats and other fun items.
Easter Basket Ideas for Kids
01. Birkenstock Arizona sandals: A pair of brown sandals for Lawson and copper for Sybil (to match me!). In the past I've opted for the waterproof version instead.
02. Books: As the kids have gotten older, I've traded themed books for whatever they are currently interested in. This year they are getting an assortment of the following chapter books: Dory Fantasmagory, Dragon Masters, Clementine, and The One and Only Ivan.
03. Weezie beach cover-up: I ordered these during a sale last fall and hid them away until now. The cover-ups are incredibly soft and I'm all about anything that zips up. It is much easier especially when wet.
04. Chicka DeeDoos: I saw these in a local toy store and thought they'd be a cute addition to baskets.
05. Shirt and pants: A cute outfit for spring. I want the pants in my size!
06. LEGO Creator Easter chickens: It wouldn't be a holiday without a themed LEGO. These are the right price for a basket stuffer.
07. Olive & June nail stickers: Sybil saw nail stickers on her cousin and was interested in them. I picked up these at Target.
08. Bunny pop keychain: The kids collect these type of keychains and put them on their backpacks. I usually get holiday themed chains at a local store, but found these on Etsy. They shipped really quick!
09. Oso shirt and chino shorts: I am very excited about this outfit for Lawson. He is going to love the yellow shorts!
10. Egg tokens: A non-candy option for easter eggs. These took awhile to ship – order for next year!
11. Monopoly Deal: A holdover from Christmas that I forgot to give Lawson. He loves to play monopoly, but sometimes we aren't up for a weeklong event.
12. Crocs Jibbitz: I heard about these on a podcast last year. I am going to split the package between the kids. I think they'll enjoy putting them on their Crocs!
Even More Ideas
A few other items that have ended up in baskets in the past: pajamas, chalk, bath bombs, swimsuits (also love this brand), waterproof sandals, paint by stickers (buy 1 get the next 50% off), Ooly markers, scribble and scratch books, Annie's crackers and fruit snacks.