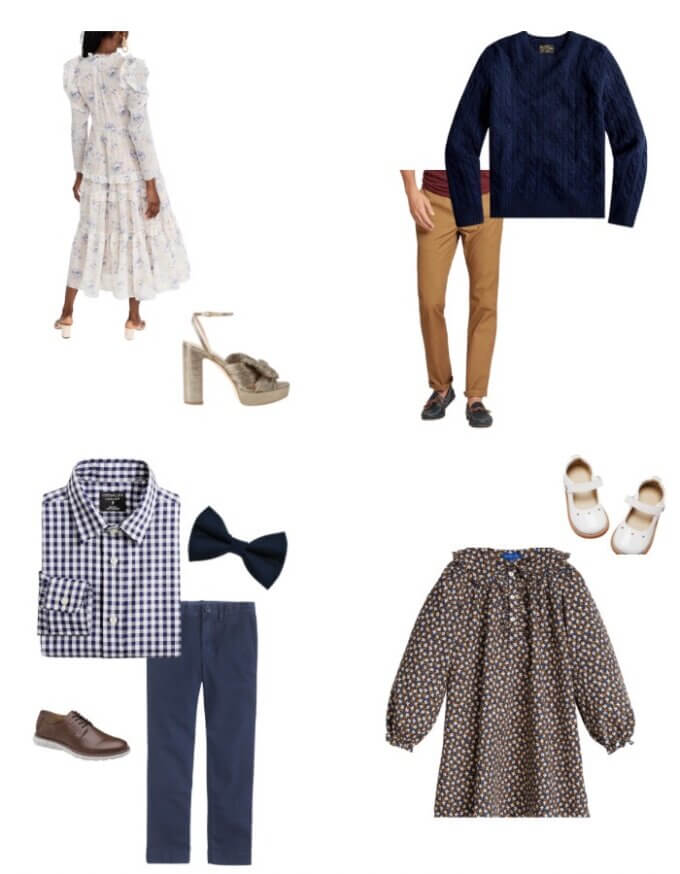 A favorite tradition of mine is having family photos taken each year. I like to vary the location, but honestly just find a photographer (Instagram is a great resource) and schedule it. Everything else will come together!
When choosing outfits for our family photos, I generally start with a piece for myself or one of the kids. Last year we were pretty casual in jeans and sweaters. I wanted to get dressed up a little more this year so I started with this tiered midi dress for me. It's flowy and comfortable and hides my stomach, which is my least favorite body part. I'll pair it with these platform sandals I wore to my brother's wedding earlier this year. Depending on where your photos are being taken, you could even go barefoot!
Once I had decided on my dress, the color scheme came together easily. Varying shades of brown and navy are the focal point.
Lawson's outfit came next. He'll be wearing a gingham shirt with navy chinos and bow tie. The chinos and brown shoes are another repeat from my brother's wedding this spring.
I came across this floral dress for Sybil and thought the cream and brown floral would contrast nicely with the floral pattern in my dress. This printed dress is similar at a lower price point. She'll get another wear out of the Amazon Mary Jane shoes from earlier in the year.
As is usually the case, Jim's outfit came last. He's wearing this cable-knit sweater and brown chinos. A couple of other options are a striped crewneck sweater or half-zip cashmere sweater. I bought him this dress shirt and tie for a work event, but those would also be options for family photos! Shoes are TBD. The cable-knit material will add texture to his outfit, which will hopefully make it stand out a bit compared to the fabric in the rest of our clothing.
When finalizing our outfits, I think about how we'll each look one on one, as well as as a family. I'm never 100% sure until I see the photos, but I'm happy with how it came together this year!
I should note some years are easier than others. Last year we didn't decide until the night before our session and I still love those photos just as much!