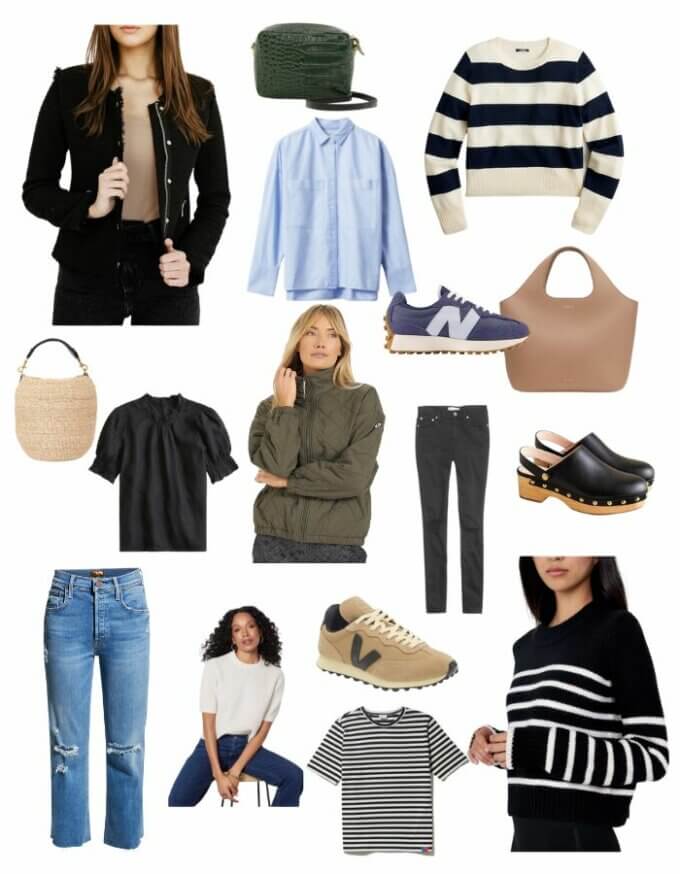 Tomorrow is September 1st, which is both hard to fathom and completely believable. Since the kids are already back in school, it seems appropriate that we're rolling into September.
While the weather is still firmly summer, I'm drawing inspiration from the fall styles that are already out. After searching Pinterest and Instagram for the colors and styles I'm most drawn to, I have a better sense of the gaps in my closet and how I can incorporate these styles with pieces I already own.
I've decided on a color palette of black, white and shades of blue and brown in mostly solids and stripes. Will I dabble in other colors and styles? Of course! But, I'm trying to focus on neutral pieces that I know I'll love and feel good in.
2022 Fall Trends
There are some trends I'm 100% certain I'll be wearing this fall, others I want to check out but haven't fully decided if they're for me, and some I'll be skipping.
Yes, sign me up: Brown is a big color for fall. A lot of the shades I like best don't look good with my skin tone so I'll be incorporating brown in accessories like bags and shoes. Another trend I'll be wearing is clogs. I bought a pair last fall that I'm excited to pull out again this year. Lastly, striped shirts worn over the shoulders is a look that really works for me. I like the depth and dimension the layer brings to an outfit.
Err, maybe: The trend I'm most interested in trying out is a pair of trousers. Banana Republic has some great options at a more affordable price point. I don't know if trousers will work for me – the volume may be too much and overwhelm my body frame. But I won't know until I try!
While I like most of my fall wardrobe to be full of neutrals, I am intrigued by pairing navy with hot pink. There's a navy pleated midi skirt from J. Crew circa 2019 that I'm searching for on Poshmark.
No, not for me: Some things I have no interest in are shackets, barrel jeans, and patchwork quilt jackets.
My Picks for Fall
One Third Jacket 01 – a classic layer that you'll own for years
French blue button-up: a gap in my wardrobe that I want to fill this fall
Clare V green croc midi sac (also here)
New Balance 327s are my most comfortable sneakers. While the navy pair I own are sold out, there are a lot of other fun color combinations.
Clare V pot de miel (also here) paired with the link shoulder strap
Puff-sleeve linen top: I own in blue and am considering black for fall. Currently on sale!
Vuori bomber jacket in a very versatile "oregano" color
Cuyana mini tote and almost gasped. It's perfect for fall!
 Veja Rio Branco in a brown and black combo
Rugby stripe cashmere crewneck sweater
Ivory short sleeve sweater – could wear over a shirt when it's cooler too!
White and black striped shirt is always a classic
La Ligne cashmere striped sweater – an investment that stands the test of time
Leather clogs – currently 30% off