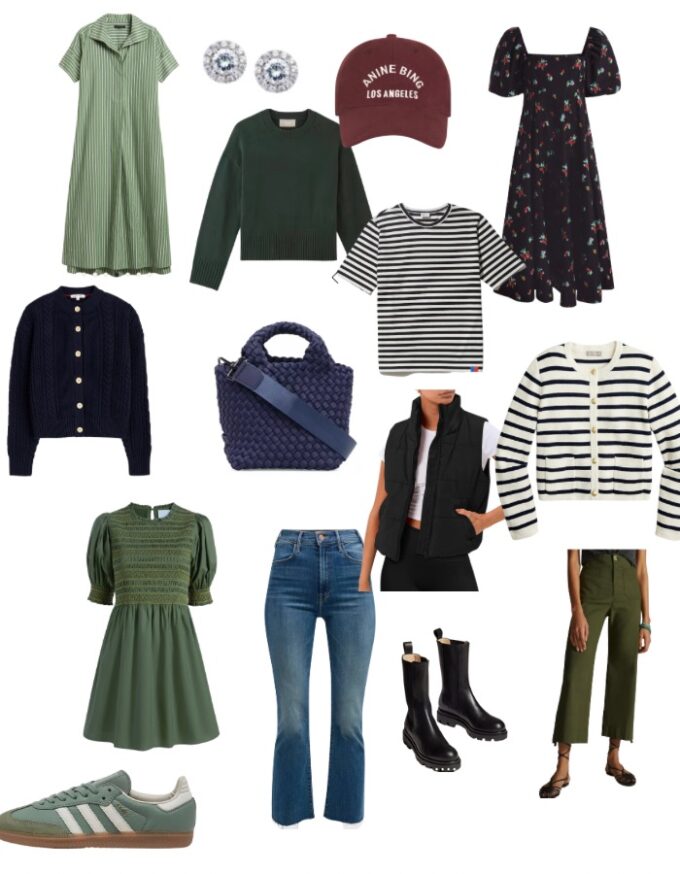 While temperatures are still strictly summer-like in Colorado, I've been filling online carts with a lot of wish list items for fall. Pants, dresses, tops and accessories in all shades of green, a beautiful navy cable knit cardigan and a very pretty pair of earrings for less than $200.
Fall 2023 Wish List
Striped midi dress: A great way to transition to fall, this striped midi dress is very oversized in an elegant way. Also available in navy and white. I ordered an XS/S in petite.
White sapphire studs: These are a beautiful pair of earrings that can be worn for both every day and special occasions. At $170, they are enough of a splurge to feel indulgent while also much less than diamond studs would be.
Baseball hat: This hat comes in 7 different colors. I'm partial to the burgundy shade. It goes well with all the green, navy and black in my fall wardrobe.
Cotton crewneck sweater: A 100% cotton crewneck sweater. Nothing fancy, but a great basic to have in your closet. Comes in 7 colors.
Matilda midi dress: The ikat pattern on this midi dress is so pretty. If you have a dressier occasion this fall, I highly recommend it! (A quick note on fit: the bust was quite tight. I'd suggest trying two sizes.)
Striped tee shirt: This shirt is a holdover from my wish list last fall. It can be worn on its own or layered under a cardigan, vest, etc.
Alex Mill cotton cableknit cardigan: A cableknit sweater adds texture to an outfit. I like that this version is cotton. The navy looks so luxe. Also comes in a faded green and ivory.
Naghedi tote: I was inspired by an instagram ad featuring this tote. Paired with an all navy outfit, it looked so incredibly chic. This bag brand has rave reviews.
Amazon vest: This vest has been in my "saved to cart" since last fall. The cropped style would be great for wearing over a workout set. Select the coupon for additional savings!
Striped cardigan: The famous J. Crew striped cardigan (also available in a stunning red!). They have a matching girl's cardigan that is just begging for a mommy and me moment. It's mostly excluded from J. Crew sales – I saw it in store at 40% this summer and still kick myself for not buying it.
Smocked mini dress: One of the items I'm most excited about is this Hillhouse smocked mini dress. I plan on wearing now with sandals and sneakers. When it's colder, I'll add tights and OTK boots.
Straight leg denim: Find a brand of denim that works for your body and stick with it. Mother Denim is that brand for me. I have the Hustler style in black from last year (purchased via Postmark) and want to add another pair.
Tall chelsea boots: Don't sleep on Banana Republic's shoe selection. I bought these last year and cannot wait to wear them again this fall and winter. The perfect height to wear with jeans and dresses alike. They are available in limited sizes.
Cropped wide-leg pants: A recent Anthropologie discovery. I saw them on someone at a 4th of July party and couldn't stop thinking about them. I've worn them with a tank and sandals on vacation in San Diego, with a striped shirt and sandals for school pickup, and with a pretty Doen top for back to school night. Very versatile and oh-so-comfortable!
Adidas sambas: Okay, I'll be honest…I find sneaker trends annoying and against my ideal beliefs. Every 6 months there's a new "it" sneaker. First it was New Balance and now it's Adidas. And I am a little disappointed in myself with this purchase. BUT, they do look quite good with dresses and I love the green. I do find Veja Rio Branco (these are also fun colors) and New Balance 327 to be more comfortable than the Adidas.
Not shown are the Vuori Essential Wideleg. My friend messaged me from the dressing room raving about them. I had a 20% off promo (if you get on their mailing list they send occasional discounts) and bought them as a birthday gift to myself. They are as soft as the joggers I love. I've already worn them 3x. Check the inseam measurements – I got the short and they are perfect on me (I'm 5'3″ for reference). These are selling out fast.