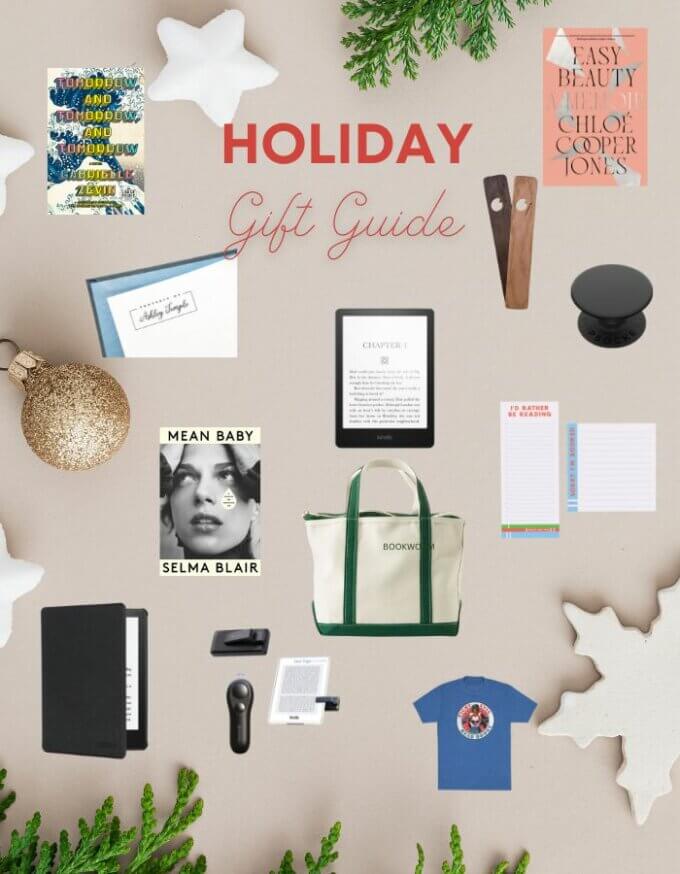 If you like reading and all things books, this gift guide is for you. I remember reading favorites like The Babysitter's Club and Sweet Valley High when I was younger. There were a few years when I didn't read much. Then in 2018 I picked up The Nightingale and my love of reading was reignited. I've regularly read 35+ books a year since.
Holiday Gift Guide: Book Lovers
A variety of books from different genres: Tomorrow, Tomorrow, and Tomorrow, Easy Beauty: A Memoir, Mean Baby, Good Inside, Great Circle, Nora Goes Off Script, The No Show, We Are Not Like Them, Bad Vibes Only, and Beyond Possible
A roundup of cookbooks: The Defined Dish (my most used), Everyday Dinners (not so sloppy joes are a repeat favorite), Half Baked Harvest Everyday, The Modern Proper (the nachos were a hit!), Cook This Book (for the Get Well Soup alone), Well Plated and Celebrate with Babs for the comfort food your grandma made.
"From the Library" stamp: If you have a friend that likes to loan out her books, this would make a great gift.
Wooden bookmarks: Available in a variety of shapes and symbols, these bookmarks are a cute addition to gift with a new book. Last year that's exactly what I did for my family!
Kindle Paperweight: After years of stating I was strictly a physical book person, I got a Kindle for Christmas last year. It is wonderful. I find I read more with it – it's easier to transport and fit in 5-10 minutes of reading between pickups/appointments/etc. I often check out e-books from our local library. Pay the extra $20 to get it without lock screen ads. (I didn't even know this was an option until recently.)
Popsocket: Popsockets aren't just for phones! A friend of mine swears by a popsocket on her Kindle for ease of holding and propping up.
Boat & Tote (and book) bag: I somehow found myself with a need for another bag to pack up my planner, laptop, and book or Kindle for days out and about. I like that this bag is sturdy enough to retain its shape. I had mine monogrammed with "bookworm". :) I have the medium zip top with regular handles.
Book Lovers notepad set: How cute is this notepad set? Perfect for anyone that likes books and making lists!
Kindle Cover: This is the cover I have for my Kindle. It's basic and does the job of protecting my screen.
Remote page turner: Although this product might feel "extra", hear me out. It's winter. It's snowing outside. You're huddled beneath a favorite blanket (in my case a Chappywrap) reading a book on your Kindle. The thought of lifting your cozy hand from under your blanket to turn the page gives you goosebumps. Instead all you have to do is click the remote in your warm hand. Sounds appealing, right??
"Fight Evil, Read Books" shirt: One of my go to bedtime shirts that I've also worn during the day alone or layered with a jacket. I have my normal size.
Book club mug: A fun gift for your book club friends paired with a gift card to a local bookstore or coffee shop.
Book light: For those nights reading physical books, this book light is a good option. Lawson got one recently and loves it!
Ornament: Another fun gift idea for book loving friends. Add a gift card to a local bookstore.
ACOTAR ornament: For your friend that loved A Court of Thorn and Roses, a mountain inspired ornament.
I truly enjoy putting these gift guides to share with you all. I earn a small commission on purchases you make through my links. The price is the same for you either way. It works whether you buy what I linked to or other things. It makes my heart swell every single time I see a purchase has been made (no, I can't tell who purchased, only that a purchase was made). Thank you for your support!