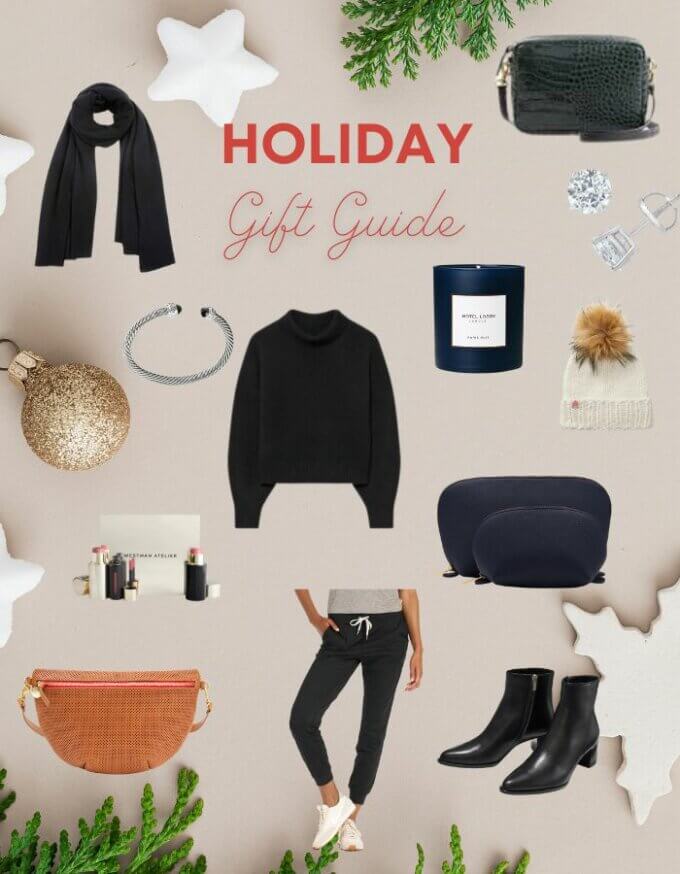 It's November 1st and we're full steam ahead to the holiday season. I'm kicking off a few select gift guides for the holiday season starting with investment pieces. From clothing to handbags to jewelry, these are a few of my favorite things. I own almost all of them with a couple of others on my personal wish list this year.
Gift Guide: All My Favorite Things
Alice Walk Cashmere Wrap: A cashmere wrap in a neutral color has been on my wish list for years. It has to be soft – no itch for me – and from all accounts the Alice Walk wrap is one of the coziest options out there.
Clare V Midi Sac: This is a great size to carry on a daily basis. It's been a favorite of mine for two years running. Pair it with an adjustable strap from Clare V or Parker Thatch.
Naadam Cashmere Sweater: The softest cashmere sweater I own by a long shot. A sweater you'll own for years and look forward to wearing each season.
STIK Rutherford Beanie: If you live in a climate where hats are a necessary accessory, you might as well make a statement. So many pretty colors to pick from (consider what it will look like with your hair and skin coloring to ensure it's an item you'll reach for year after year).
Cuyana Leather Travel Case Set: This leather case set will elevate your makeup bag. I use the bigger for my daily makeup and the smaller case for odds and ends when traveling. Personalize it for an added touch.
Clare V Grande Fanny: Too good not to include another Clare V product, the Grande Fanny is the latest addition to my collection.
Vuori Performance Joggers: Hands down one of my most worn items in the winter. These joggers are incredibly soft. You'll look forward to wearing them.
Margaux The Downtown Boot: An ankle boot to upgrade your winter wardrobe, these will look equally as good with skinny, straight or wider leg denim.
A few other gift ideas: Dudley Stephens Park Slope turtleneck, Hill House Home Louisa dress, and Lunya Restore short set.
STOCKING STUFFERS
Hotel Lobby Candle: A luxury candle is the kind of item I want, but never buy for myself. I'd love to try the Signature, New York, or Cabin scents.
Westman Atelier Petal Set: The cream blush in petal is one of my desert island beauty products. I own another shade of the lit up highlighter and it's my #1 favorite beauty item for that dewy look that I'm after.
SPLURGE ($500+)
Diamond Studs: A gift you'll wear every day. Classic, minimalist and chic. At my first job out of college, a manager wore diamond studs and I swore some day I'd have a pair of my own. My cost per wear is now $1.
David Yurman Bracelet: Another classic piece of jewelry that is casual enough to wear daily while also feeling special. Pair it with a twist Yearly Co. bangle for an added splurge. (I am a fan of mixing metals when it comes to jewelry.)
Stuart Weitzman 5050 boots: A timeless pair of over the knee boots.