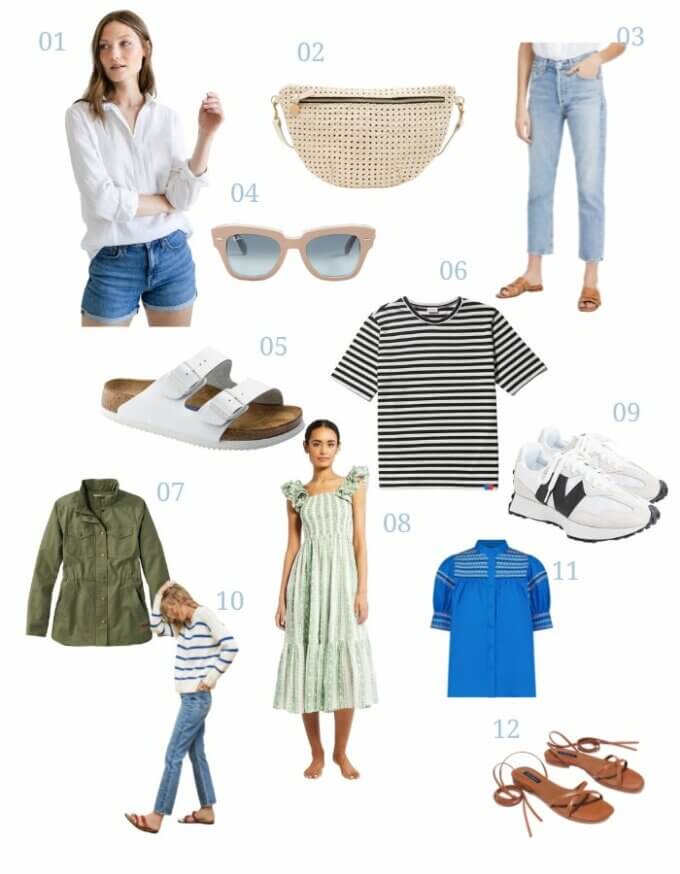 There are quite a few items catching my eye this spring. It should come as no surprise my wish list is filled with a lot of neutrals and a pop of color. Cobalt blue is big for spring!
Spring Wish List
01. Alice Walk Gauze Top: I envision wearing this shirt with light denim or shorts and as a swimsuit coverup.
02. Clare V Grande Fanny: The rattan versions of the Grande Fanny are back in stock. It also comes in a camel and black. I absolutely love carrying this bag!
03. Straight Leg Denim: Another item that's been on my wish list for a year. So many people rave about these jeans. I'm on a hunt to try them on in person. A perfect shade of denim for spring and summer.
04. Sunglasses: At my last eye doctor appointment, I was informed my eyesight is back to 20/20. Woohoo! (Although I fully need to wear readers at times so there's that…) I had been limited to prescription sunglasses for years. Now the sunglass world has opened up!
05. Birkenstock Arizona sandals: This white pair of Birkenstocks would look so great this spring and summer! I've had a pair of these sandals in copper for 7 years. They are the best. I wear the soft footbed in a narrow. Otherwise the regular sizes can look sloppy on my feet.
06. Kule Modern shirt: I am surprisingly lacking striped short sleeve shirts that I love. I like this black and white option for all seasons!
07. LLBean Utility Jacket: While a trench coat is great for spring and fall, I actually prefer a utility jacket in an army green shade. I've had a J. Crew one for 15+ years and still reach for it often. It's much more versatile that I ever thought it would be.
08. Mille Dress: Such a pretty dress in a favorite style of mine. Wear for Easter and all summer long. A similar and slightly less expensive option here.
09. New Balance 327 Sneakers: I have these sneakers in navy and they are my most comfortable pair.
10. La Ligne Striped sweater: I have this sweater in a mini/cropped version. It is 100% cotton so very soft and comfortable. I am most excited to bring it out this spring!
11. The Saylor Shirt: Cobalt blue is one of the "it" shades for spring, which is great because it's a color I love. Pair this shirt with white denim and the wrap sandals below. *chef's kiss*
12. Margaux Wrap sandals: These wrap sandals have been on my wish list for almost a year. I think they'd look great with jeans, dresses, shorts. Basically everything! Anyone else remember when Blake Lively wore a white grecian dress on Gossip Girl? I've been trying to recreate it for years. While she didn't wear wrap sandals, they would be my shoe of choice.