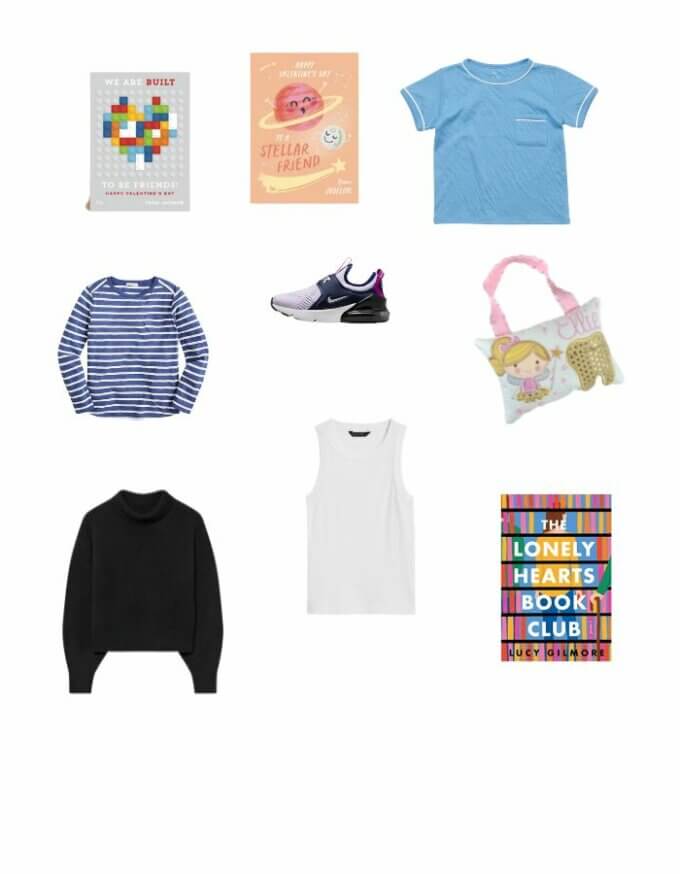 What I Bought in January
For someone that was/is trying to be more intentional about purchases, I'm a little surprised that I bought more than I thought I did this past month. I guess that's a good lesson for me. Almost all were clothing purchases for me or the kids. I had some credits at Banana Republic and J. Crew to use up before they expired.
Naadam cashmere sweater: My absolute favorite sweater that was on my 2023 wish list. When it came back in stock in my size and on sale, I hit purchase very quickly. 
Banana Republic tank: I have this same tank in black and saw it on sale in the navy so bought it to layer this winter and wear alone come summer.
J. Crew zippered hoodie: Lawson wears this hoodie weekly over a long sleeved tee. He has a strong gag reflex and likes to wear zippered outer layers. He's between sizes – I got him the next size up for the rest of this winter and spring and to wear again next year.
J. Crew heart tee: If I order something for Lawson, I need to order something for Sybil, right?! (The correct answer is no, but clearly I didn't follow that here.) This long-sleeved tee with the cute heart pocket would also make a cute Valentine's Day gift for your kiddo!
Oso and Me shirt: I've wanted to try this brand for Lawson. They recently had a sitewide sale and I loaded up on shorts and pants. Unfortunately none of them worked for him (too big in the waist), but this shirt did. I may hide it away for his Easter basket.
Tooth fairy pillow: I was a day too late on this order, but she'll have it for years to come. 
Books: Barnes & Noble recently had a promo on pre-orders. I took the opportunity to order a few upcoming new releases I am excited about – The Christmas Orphans Club, Banyan Moon, The Lonely Hearts Book Club, Same Time Next Summer, Aaron Slater and the Sneaky Snake, and InvestiGators: Agents of SUIT. 
Nike sneakers: Both kids wear these Nike sneakers. The slip on is key in the mornings. (Should I admit now that neither one knows how to tie their shoes?!) They aren't cheap and when I saw them on sale, I decided to stock up.
Sweaty Betty All Train sports bra: I was out on a run wearing this bra and thought to myself, I should add a couple more to my wish list. They are my favorite bra to wear for high impact workouts. I looked it up when I got home and they were on final sale. I got 2 more for less than the price of one. It can be a bit of struggle to get into, but the fit is great for me. I can't find a link to this bra anywhere on the internet, I'll update this post if I do!
Minted valentines: I tried to steer the kids to looking at Valentine's cards for their classmates on Etsy this year (I thought this was such a cute one) to no avail. They both wanted to go with Minted again this year. Sybil went with the Friendly Planets design she got last year (with a spot the difference on the back) and Lawson chose a LEGO theme (with maze on the back). I used a promo from a blogger for 20% off and free shipping – try XOXOJULIA23 to see if it still works.
After writing this post, I realized that almost every thing I bought this month was on sale. It's good to take sales as an opportunity to buy necessary items at a discount. The trick is not to get sucked into buying just because it's on sale. I'd give myself a B this month.