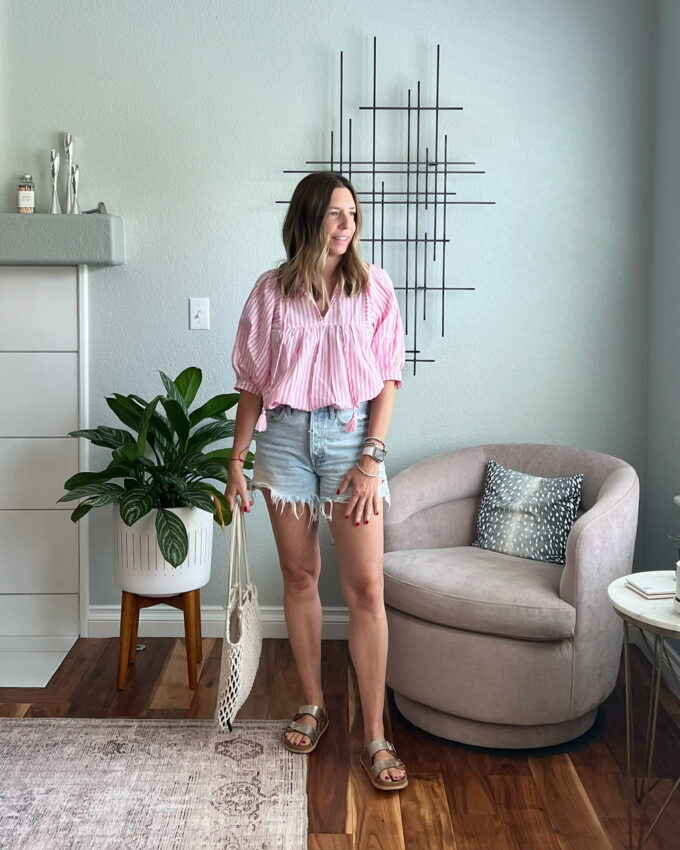 In my search for a perfect swimsuit and dress for the summer, I bought and returned quite a few items last month. I remain unconvinced the perfect swimsuit exists! I did manage to get some tops and swim stuff for the kids that I really like. 
What I bought in May 2023
Clare V shirt: Clare V brought this fish shirt back for another season and I bought it quickly. It's very soft and great to throw on alone or layer under a jacket/blazer.
Clare V hat: Since I had a 20% off promo, I ordered a new baseball hat for myself. 
Banana Republic cardigan: A way to try out the crochet trend in a manner that seems like it has more staying power. I've been wearing it buttoned up alone and layered over a white tee or tank.
Mille striped shirt (also at Saks): I couldn't get this pink striped shirt out of my mind. I have the same shirt in another pattern that I wear all the time. It's very light and airy for hot summer days. 
How to Draw kit: Before our summer road trip I was looking for new activities for the car. A friend sent me this idea – Sybil loved it! 
Pearl Street swim: These swimsuits fit both kids really well. My son wears the drawstring trunks and my daughter prefers the all day two piece (also here) or flutter one piece.
SwimZip rashguards: A short sleeve zippered rash guard is extremely hard to find – these are the only brand I've found. I ordered the next size up for both kids. The zipper is much easier when they're wet after having been in the pool! My daughter has this pink version and I also like the pink gingham.
Primary tee shirts: The kids went to a tie dye art camp at the beginning of summer and used this pocket tee and this slim fit tee for their project. While ordering, I also got this striped shirt. It's been a favorite of the summer. I've ordered from Primary twice now and really been impressed with both orders.
Haldi skincare: I ran out of the AM serum and sunscreen I use daily. After almost two years, I am 100% loyal to Haldi. The recommendations haven't steered me wrong and my skin in the best it's been in years.
Tattoo design: I've been thinking about adding another tiny tattoo for a couple of years, but couldn't figure out exactly how I'd want to design it. When I saw xxx featured on an IG account I follow, I filed it away for a rainy day. We're still working through the final design, but I am 100% happy with this purchase. It will probably take me another 6 months to actually get the tattoo!