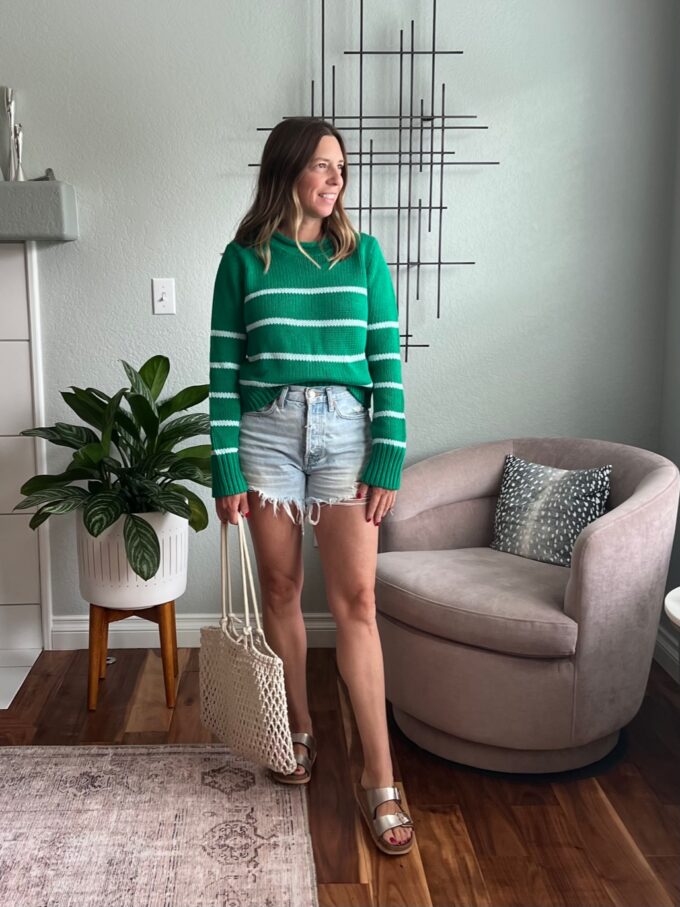 Oh goodness, this was a big month. Lots of small things for the kids. These reusable water balloons have been a hit though!
What I Bought: June 2023 Edition
La Ligne striped sweater: Yes, this sweater is an investment. Yes, I absolutely love it. The sleeves are slightly long, which is pretty much my dream. Similar green versions (also investment pieces) here and here.
Appointed planner: I have been an Emily Ley planner fan for 5+ years. The one downside is it is very bulky and heavy so it mostly stays on my desk. I wanted to try another option that could be more portable. I really like Appointed products – I have a couple of their notebooks. (20% off with promo AMERICANMADE)
Camp short pajama set: It's a tradition for the kids to get a few items on the first day of summer. You can't go wrong with a themed pajama set!
Trail running shoes: I've owned a pair of hiking boots for years that I just don't find comfortable. My friend wears these trail running shoes. After finding them on sale and reading the reviews that many wear them for hikes up to 5 miles, I ordered them to try out. I think I'll really like them – I had been taking my normal running shoes camping and they got so dirty. I size up a full size in running shoes.
Pom hamper: The stuffy collection in our house is growing out of control. We got this smaller hamper to store a few of them in.
Skinny scrunchies: I absolutely love these skinny scrunchies and it turns out Sybil does too. When I couldn't find one when I wanted, I decided to order another pack to replace the ones she keeps taking. 
Welly bandaid refill pack: These bandaids are our favorite. Summer = lots of bare knees and scrapes. 
Reusable water balloons: The hit of summer so far. These reusable water balloons are easy to fill and store. So much better than picking plastic balloon remnants out of the grass! 
Booster carseat: Sybil is so close to the minimum weight for a booster seat so we finally switched the seats for the kids around. Lawson is using this booster seat while Sybil is in another booster with a back on it.
Swim goggles: These swim goggles have a fabric strap so there's no pulling on hair. Both kids have and love them.
Water bottle: Lawson lost a water bottle during the school year. I replaced it with this colorful Owala that has quickly become his favorite. 
Mille dress: The extra 50% off holiday sale got me. This shirtdress is quite oversized and oh so soft. I plan to wear it with Margaux wrap sandals and a Panama hat. 
Merit brush and eyebrow gel: I've slowly been replacing older products with Merit since I liked their blush so much. I have recommended the Artis brush in the past – it's really great, but mine broke over a year ago. So far I like the Merit brush just as much.
Ilia liquid powder eye shadow: I rarely wear eyeshadow these days, but I'm often looking for a little something to add to my lids. I tried this in store and decided to bring it home with me. 
Banana Republic ribbed tank: I bought a white tank from Target last summer and wore it so much that I wanted to upgrade it a bit. The Target option is very good, especially to try out a trend, but it's a little more see through than I'd prefer. I also own this BR tank in black and navy from last year.
Natori Bliss briefs: Replacing my night underwear has been on my 2023 list since the start of the year. These are very soft and comfortable. TBD if they stay in place.
Books: Always an assortment of book purchases in our house. This month we got the next books in The Math Inspectors and Dragon Girls series, along with Fourth Wing (I actually found a hard copy at our local bookstore), Go as a River (coming of age in rural Colorado), and Banyon Moon for me.