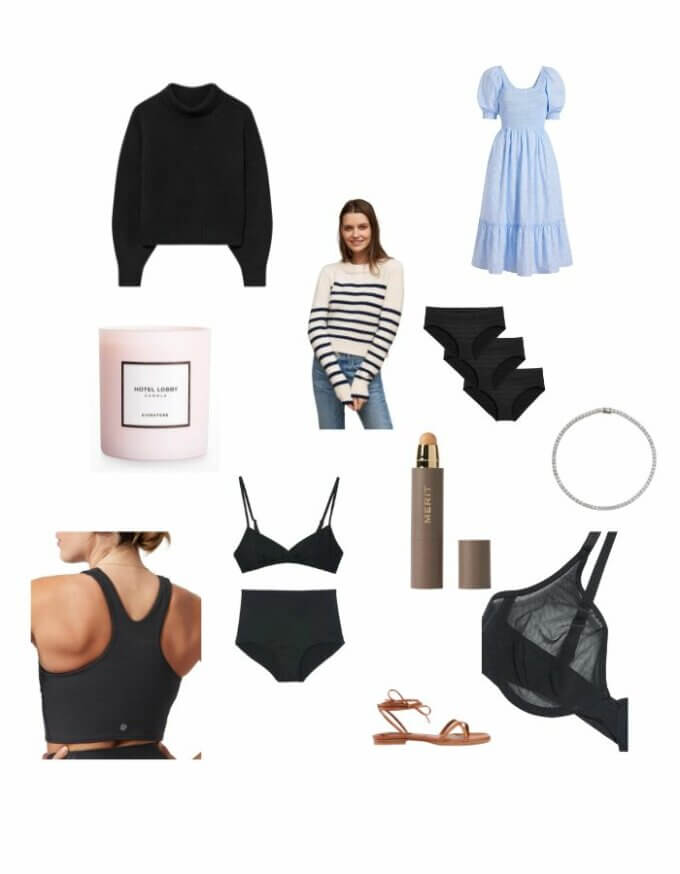 In an effort to be more intentional with clothing/accessory purchases in 2023, I put together a little wish list. I'm sure I will stray from it and won't get everything on the list, but these are some favorite items that would fill a need or want in my wardrobe. 
2023 Wish List
A swimsuit I absolutely love: So this is a tall order. I have swimsuits I like (the Summersalt sidestroke for one), but not one I love and feel great in. That is my wish for this year. A contender that I've screenshot and hope to try: the Solid & Striped Bridgette bikini top and bottom.
Black cashmere sweater: I absolutely love the Naadam Oversized Cashmere sweater I got in oatmeal on sale in late 2021. I wear it once a week in the fall and winter. So much that I want (and recently bought) in black. 
Dorsey necklace: I loved the look of all the tennis necklaces last fall/holiday season. It's such an easy look to wear and instantly elevates a white tee shirt and jeans. I may try the Amazon version that is much less expensive first.
Day bras: Onto the basics portion of my wish list. I really need to spend some time (and $$) to find a daily bra that I love. The Negative Sieve Demi is at the top of my list. Ideally I need to get 3 bras: 2 nude and 1 black. 
Night underwear: Anyone else wear different underwear for day and night?? For day I prefer a thong (no panty lines!), but that doesn't work for me at night. I have two brands I want to try: Bombas seamless hipster and Tommy John Second Skin brief. 
Margaux wrap sandals: I saw these sandals on Mally Goldman last summer and could not get them out of my mind. I've always wanted a pair of wrap up sandals for that floaty Grecian look. Will this summer be the one I make that happen? Time will tell.
Summer dress: Every summer I like to add a dress (or two) to my wardrobe. I've got enough of the Ellie, but the Louisa is a frontrunner. I'm looking for a light blue shade similar to the Hydrangea Gingham.
Athleta sports bra: Although I have a couple of other sports bras for higher impact activities, I could use another one for yoga/barre/pilates. This crop version to pair with Lululemon Align high waist leggings. 
Pajamas: I'm calling this one research for matching pajamas for our annual girl's night next December. I own and love Lake Pajamas (the weekend style is my current fav). For my "research" I want to try Eberjey slouchy pj set and Petite Plume. 
La Ligne striped sweater: I cannot get enough soft, warm sweaters. They help me survive winter. This investment has been on my wish list for 2 years. 
Brooks Adrenaline running shoes: My go to running shoe for 15+ years. My current pair is a couple of years old. While they don't have as many miles on them as in the past, I never really loved the color. I like a bit more pizazz in my running sneaker. Something to make me smile when I look down as I slog through the miles!
Finally a couple of non-clothing items on my wish list:
Hotel Lobby candle: While I love my local Sunday Candle Co, I've seen Hotel Lobby raved about everywhere and want to check them out. Perhaps I could designate it as a "special" candle to be used for dinner parties (ha!) or getting ready for a night out (haha!)?
Merit complexion stick: The tagline is "not a foundation or a concealer, but it'll replace both in your makeup bag." Since I don't actually wear concealer frequently, maybe it will make me look more awake??!